Central supervision and traceability NOVAIR Medical
Vision'Vide central supervision system is connected to every component of NOVAIR medical vacuum stations and provides a complete vision of the station status. It ensures the unit monitoring, alarm reporting and can be directly managed via the Internet or the computer network of the healthcare facility.
Vision'Vide recording and historisation capacities ensure a complete traceability of any event happening during the station operation.
Dynamic synoptic
The dynamic synoptic provides an instant information of each medical vacuum unit device status, as well as an indication of the vacuum levels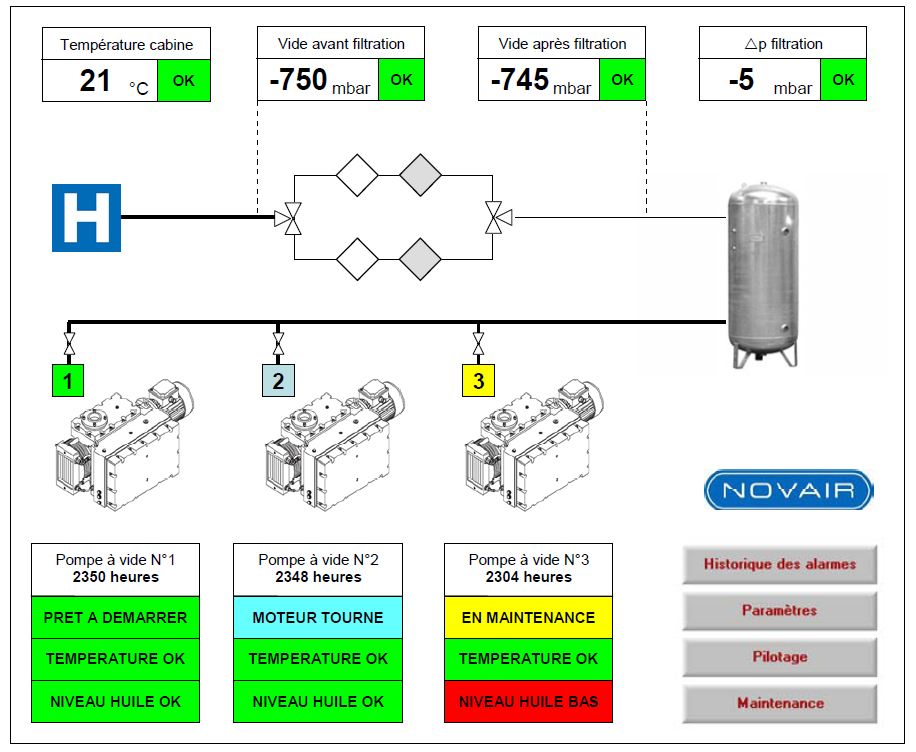 Pumps status
Oil level and temperature control
Vacuum level, before and after filtration
Room temperature
Alarms hisotry
Maintenance support
Vacuum pumps permutation and regulation
Continuous recording
All operating parameters are continuously registered on a SD card, checkable off site. Data can be easily extracted and transfered on a computer.
Evolution curves are directly accessible on the screen for immediate checking.
Remote monitoring
Vision'Vide is accessible off site via the Internet or Modbus/Profibus type protocole. For the healthcare facilities that are not equipped with a GTC, we provide a dedicated checking Windows software.
Vision'Vide can be completed with a off site monitoring transmitter, connected 24H/7 to NOVAIR remote monitoring cell in order to call for maintenance by a NOVAIR qualified technician in case of operating default (*).
(*) This service is available upon request, as part of a spcial contractual clause to precise your specific needs
Defaults reporting & management
The dynamic synoptic clearly displays the default parameters or devices, and provides a record of the alarms/defaults for a complete events traceability.
Dry contacts normally closed (positive security) provide a remote defaults reporting.